Nanaboozhoo (Greetings in the Name of Ojibwe First Teacher) Indaawemaageniidoog, N'Kaanisiidoog (All my Sisters and Brothers)! Gizhewe'e Inini n'dishnikaas (Kind Man I am called). Waabaazheshii Doodem gaye (I am Marten Clan too). My other given names are Dr. Hopi Lovell Martin. I hold a PhD in Developmental Psychology and Education from the University of Toronto. I am named after the Hopi Nation and the Briton Warriors that came to Mishiikenh Minissing (Turtle Island/North America) from England. My ancestry is Lenni Lenape, Briton, and European. I was born on the western edge of Massachusetts along the Housatonic River, but I was raised in Tkaronto (Toronto), the Traditional Territory of Anishinaabeg, Tionontatí (Petun/Tobacco Nations), Huron-Wendat, the Seneca Nation of the Hodenosaunee, and that is currently in the care of Mississaugas of the Credit First Nation. It is within this context that my belonging to Waabizheshi Doodem (Ojibwe Marten Clan) comes through my Auntie and Niiyawe'enh (Namesake), Dr. Gokoomis (Grandmother) Jacque(line) Lavallée, Waabizheshi Doodem (Marten Clan) from Shawanaga First Nation, Niizho Mide'ow (2nd Degree) in the Midewigaan (Three Fires Grand Medicine Lodge) and 'elder-in-residence' at Ontario Institute For Studies in Education (University of Toronto). Through this reciprocal relationship I am her Niiyawe'enh (Namesake) and Oshkaabewis (Sacred Helper, Messenger, Fire Keeper, Lodge Caretaker) following an old-time Traditional Ojibwe Path of Asemaa Nitam (Sacred Tobacco First). It is in this helping role that I walk with Kindness. Gichi Miigwech (A Big Thank You)! Niigaaniikina, Niigaanis Akina Gwa (All my Relations)!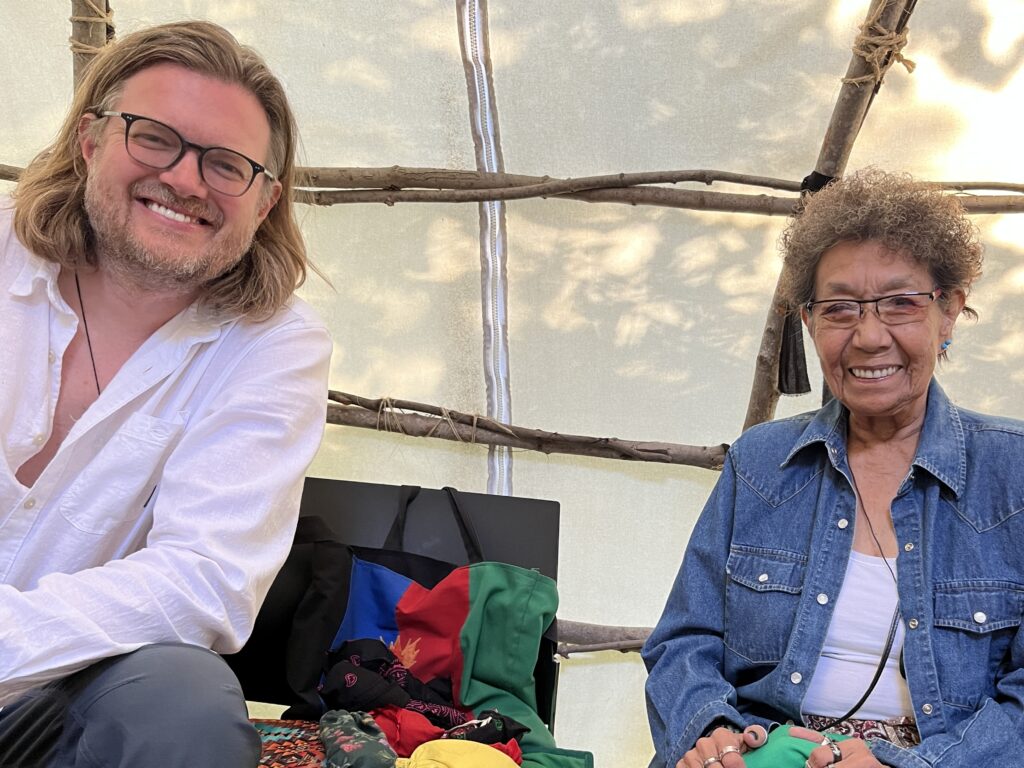 Based on my Auntie Jacque's Marten Clan Teachings, the 'edge of the bush' is an old-time meeting place between visiting and host nations at the edge of their respective territories. There once was a protocol around the Great Lakes where I live that expected visiting nations to light a small fire at the meeting places between territories which often came at the edges of lakes and rivers or in the spaces between cleared lands and bush. From that Sacred Fire, the visiting nation would wait to meet with the host nation. Through ethics of reciprocity, respect, responsibility, and relevance the nations that met there would decide how their relationships would proceed into the future. 
Considering that the Truth and Reconciliation of Canada defined reconciliation as the "establishing and maintaining of mutually respectful relationships" (TRC, p. 6) between Indigenous and non-Indigenous peoples, the 'edge of the bush' is a crucial land-based concept that can embody this practice
The intention of this 'Edge of the Bush' website and our partnerships is to renew these old-time protocols to facilitate respectful nation-to-nation relationships at the meeting place(s) between worldviews.