Nanaboozhoo (Greetings in the Name of Ojibwe First Teacher)! Dr. Hopi Martin Oshkaabewis (Ceremonial Helper, Messenger, Fire Keeper) miinawaa (again)! Starting in January 2022, I will be hosting a monthly webinar series with my Auntie, Gokoomis (Grandmother) Jacque/line Lavallee from Shawanaga First Nation in partnership with the York Region Nature Collaborative. Since this partnership began in April 2019 at the Land as First Teacher Conference, we have been learning to walk together following an Ojibwe-Anishinaabe 13 Moon Seasonal Calendar. In 2022, I would like to share some of these teachings to help educators and caregivers learn to walk gently with the young children in harmony with Doodoom Aki (Mother Earth) and Gokoomis Dibiki-Giizis (Grandmother Moon).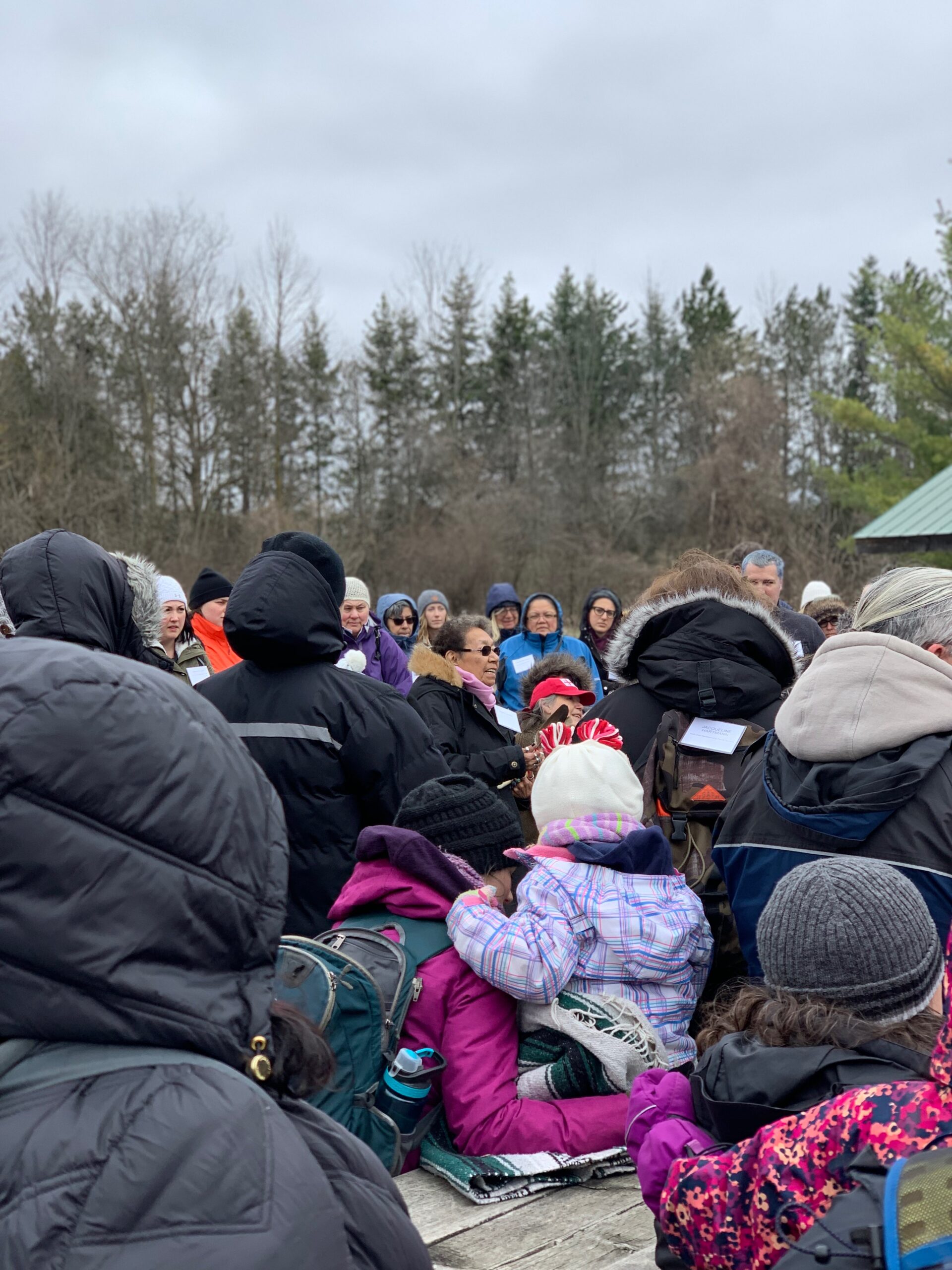 Unlike 'western' or Gregorian Calendars that count twelve months in a solar year, Traditional Ojibwe-Anishinaabe Calendars have always followed the 13 Moons. While the names of these 13 Moons vary from Nation to Nation and even from region to region within Nations, all of them describe specific relationships between Doodoom Aki (Mother Earth), her People, and the Teachings of the Four Seasons. Unfortunately, like most people, I did not grow up with these teachings that would have been shared anecdotally from early childhood where I would have gained the land-based, experiential knowledge of walking in harmony with Mother Earth and Grandmother Moon.
To mimic this Traditional Way of Teaching, I have asked my Auntie Jacque with Asemaa (Sacred Tobacco) and 100% Cotton Cloth to share some of her memories of growing up with her Mom and her Aunties at the 'edge of the bush' near Shawanaga First Nation on the East Shore of Georgian Bay.
Like the Four Seasons, each Moon Cycle of 28 days has four parts that each last 7 days: New Moon, First Quarter, Full Moon, and Last Quarter. Since this cycle begins with the 'New Moon' and there are 13 'New Moons' in 2022, I thought it would make most sense to host these land-based, virtual webinars as close to those dark, moonless nights as possible. I plan on linking the recordings of those New Moon Teachings as well as a Blog post reflecting on my ongoing learning about 'Walking with Grandmother Moon'.
Tuesday January 4 (6-8pm) Gichi Manidoo Dibiki-Giizis (Big Spirit Moon) Vlog
Tuesday February 1 (6-8pm) Makwa Dibiki-Giizis (Bear Moon) Vlog
Tuesday March 1: Onaabani Giizis (Hard Crust Snow Moon)/Ziizbaakdooke-Giizis (Sugar Moon) Vlog
Thursday March 31 (6-8pm)
Saturday April 30 (6-8pm)
Monday May 30 (6-8pm)
Tuesday June 28 (6-8pm)
Thursday July 28 (6-8pm)
Saturday August 27 (6-8pm)
Sunday September 25 (6-8pm)
Tuesday October 25 (6-8pm)
Thursday November 24 (6-8pm)
Thursday December 22 (6-8pm)